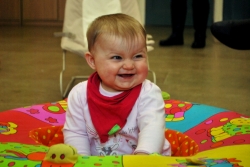 Reaching out to the community, this group aims to provide a safe and friendly meeting place for carers, babies and toddlers. The objective is for the children to have fun while their carers can gain support from each other and from the facilitator of the group. Children from birth to age three are catered for in this safe Christian environment. People from all denominations are very welcome.

Where and When:- We meet in the Church Hall every Wednesday morning during school terms from 10am till 11.30am.

Weekly Programme:- Big toys are set out allowing the children free play. A choice of crafts, colouring, lego, jigsaws, books etc are set out for supervised activities .

Snack time:- Children are provided with a healthy snack in an adjoining dining room under the supervision of their carers.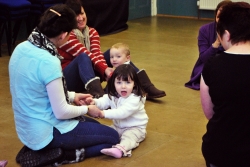 Carers then enjoy their snack.
Singing Circle:- This is great fun. Children and carers love action songs!
Carers are involved in planning parties, picnics and fundraising for children's charities at special times of the year.
We are an informal group.
Interested in joining us? Call Lily Cowie on 01779 472315 or mobile 07939935989.