Sunday morning – 11am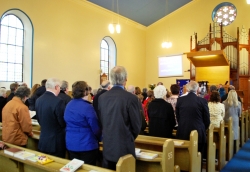 Family worship includes Sunday school for children aged 3 years to 12years old and a crèche for babies and toddlers.
The children in the crèche are looked after and 'entertained' by two adults in a bright play room giving their parents or carers the opportunity to relax and enjoy the worship time in church. For more information on Sunday school see under church groups.

Sunday Evening - 6pm-Not meeting at 6pm meantime.
(there are no Sunday evening Services during July and August) Evening worship is informal and often interactive where we look closely at God's word and how we can apply all that we learn to reach out to our community with the Gospel message. We celebrate Communion (taking bread and wine) usually four times a year at both the morning and evening Services. Communion is for all who love the Lord whether or not they are a member of the church. However if you do not wish to take part in Communion then please let the bread and wine pass by. When there are five Sundays in a month the 5th Sunday morning Service is usually led by the elders of our church giving them the opportunity to lead the congregation in all aspects of worship. We are fortunate to have three organists - Elaine, Sheila and Diane - who play for us on a rota basis.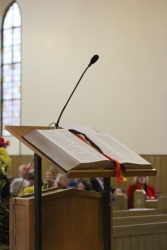 Our building is accessible for people in wheelchairs (left side entrance) and we have an induction loop system for people with hearing aids.
There is an open and friendly atmosphere in our church. The Services are solid Bible based and our worship songs are probably best described as a mixture of new and older hymns. In church we believe we are in the presence of God where we can worship Him in Spirit and truth. Who We Are What We Believe